Biomedical - Thermal Spray Coating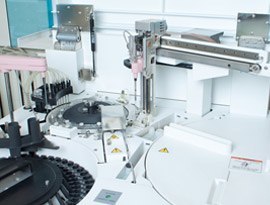 Thermal spray coatings from A& A Coatings are used by a number of industry leaders for a wide selection of biomedical industry applications. Our coatings are proven to be effective in improving bio-compatibility and wear-resistance as well as providing RFI/EMI shielding for biomedical equipment. Since our inception in 1944, we have been offering custom solutions to biomedical research institutions and biomedical firms with excellent results.
Coating and Spraying Services Offered for the Biomedical Industry
A&A Coatings' engineers offer a wide range of specialized solutions to biomedical research labs and biomedical device producers. For example, the thermal spraying process is integral in developing top grade medical implant prosthetics. We often apply dense hydroxyapatite spray coatings on implant prosthetics to make these implants compatible for human use. Apart from applying coatings on medical implant prosthetics, we also have many great solutions for the biomedical market:
EFI/EMI Shielding Coating Solutions
We have designed a diverse selection of coatings for protecting bio-medical devices from Radio Frequency Interference (RFI) and Electromagnetic Interference (EMI). Our EMI and RFI coatings can be used on any substrate, including but not limited to carbon-carbon composites and carbon-fiber composites. Lightweight electronic enclosures that are commonplace in biomedical research labs and healthcare facilities are also coated for advanced RFI/EMI protection. Various noise sources such as oscillator circuits, CPUs, transformers and plastic cases can also benefit from our thermal spray coatings. Another common type of biomedical devices that utilizes thermal spray coated components is x-ray equipment.
Coating Services for Bio-Compatibility
When it comes to medical implant prosthetics, it is important that the human body can accept the use of these biomedical components readily. That is why specialized materials such as hydroxyapatite and pure titanium have to be used to create bio-active coatings on such implants. With superior services from A&A Coatings, we can create wear resistant coatings that can promote Osseo integration between the implant and the human bone.
A&A Coatings is the Best Thermal Spray Partner for the Biomedical Industry
A&A Coatings has 7 decades of experience in thermal spraying biomedical devices and implants. Our rich industry experience coupled with our intensive research has helped us in becoming a trusted thermal spraying partner for many biomedical research institutes and prosthetic device manufacturing firms. Besides our unparalleled quality, the competitive pricing of our coating services coupled with a quick production time frame make us one of the best thermal spraying companies you can count on. To know more about our thermal spraying services for the biomedical industry, simply contact us today.