Food & Beverage Processing - Thermal Spray Coating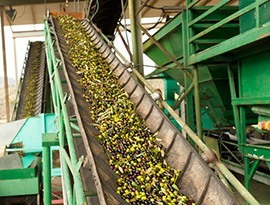 It's widely known that many machinery components used in the food and beverage processing industry are prone to high levels of corrosion and wear. What's more, the coatings on those components that come into contact with food and drinks should be approved for use by the FDA.
Through our coatings, A&A Coatings have been helping many businesses maintain the highest level of safety and quality for food and beverage consumption. The strong industry experience we have accumulated over the years makes us a trusted thermal spray coating partner for our esteemed clients in this specialized industry.
Coating and Spraying Services Offered for the Food and Beverage Processing Industry
Our coating and spraying solutions for the food and beverage processing industry can guarantee an extended service lifespan of food and beverage equipment. Listed below are some of the services that we cover under our thermal spraying coating services for the food and beverage processing industry:
Mechanical pump seals that are made from variants of stainless steel like 316L SS are subjected to coatings of metal oxide ceramics like chromium oxides. For even better resistance against corrosions and wear, carbide containing materials are also used. These coatings are generally meant for equipment and materials that come in contact with food. The general hardness of these coatings varies between 70 and 75 HRC. The coatings are capable of successfully warding off corrosion, and wear even from the most abrasive materials.
Homogenizer Plunger Coatings
The homogenizer plungers are generally employed in homogenizing products such as juices and milks. For best corrosion and wear protection, we can mix ceramic and oxide into our coatings. The hardness of the blend is generally in the 71-76HRC range. To develop tolerance even further, the coatings may even be polished and ground. In these coatings, environmental concerns that generally surface with hard chromium plating are also eliminated.
Impellers, Pump Shafts and Sleeves
Improved wear resistance in impellers, pump shafts and sleeves can be achieved through thermal spray coatings. Mostly, bearing and seal surfaces are coated on sleeves and shafts. While grinding can be performed to achieve very fine finishing, the finish is generally limited to a range of 4-6 micro-inches Ra on the low end. This is typically done to facilitate lubrication of the seal surfaces. Again, this coating makes for a brilliant alternative to the hard chrome plating that isn't very eco friendly.
A&A Coatings is the Best Thermal Spray Partner for the Food and Beverage Processing Industry
The food and beverage processing industry calls for equipment that do not wear or corrode easily when they come in contact with food and associated chemicals, making the components of the equipment long lasting and ensuring safety and hygiene of the food. Our coating services for the food and beverage industry focus precisely on this. Send us an inquiry to know more about our outstanding services.