Compressor - Thermal Spray Coating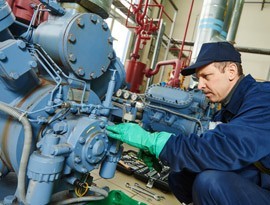 A&A Coatings has been trusted for many decades when it comes to thermal spray coatings. Thermal spraying is often recommended for the deposition of coatings for a range of applications, most notably on compressors, combustion chambers, rotary engine components as well as aero engine components.
We utilize various techniques such as combustion flame thermal spraying, electric arc wire spraying, plasma spraying and high-velocity combustion techniques for developing and enhancing wear resistance, corrosion resistance and oxidation resistance in compressor components.
Coating and Spraying Services Offered for Compressors
Compressor components including piston heads, piston rods and cylinders are prone to abrasion during regular operations which may cause wear and malfunctioning of the compressors which may effect the operational efficiency. A&A Coatings thermal spraying process has been designed to apply wear and corrosion resistant coatings which significantly improve the operation and life of the compressors.
Compressor Coating Solutions
Spray coatings composed of tungsten carbide or ceramic are applied for wear and corrosion resistance to piston rods, heads and other critical components which are typically manufactured from substrates such as mild steels that are subject to wear.
Compressor Repair and Resurfacing Solutions
Apart from building corrosion and wear resistance in fully functional compressors, we also repair and resurface worn components, especially the piston rod packing areas. We typically use the HVOF or Electric Arc spray process for repairing these components and other kinds of applications such as operator noses, upper seal rings, stem tubes, thermowells, piston heads and cylinders. These repairs result in a significant cost savings when compared to part replacement.
A&A Coatings is the Best Thermal Spray Partner for the Compressor Manufacturing Industry
We are proud to be one of the most trustworthy names in the field of thermal spraying for compressors. Whether you are looking for corrosion resistant coatings, wear resistant coatings, oxidation resistant coatings, or thermal barrier coatings, A&A Coatings promises to offer cost-effective solutions for your compressors. If you have an inquiry regarding our thermal spraying services for compressors, please contact us today.